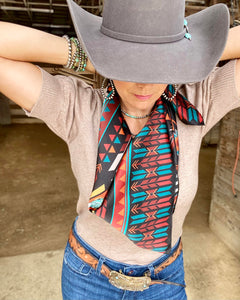 Silk Wild Rags Are Here!!!
I started sewing wild rags nearly 6 years ago for myself because I couldn't find unique styles i liked, but i could find the fabric! Then friends and family wanted to buy them which led to Gilliland H&C Wild Rags becoming a thing! This adventure outgrew my dining room after a few years, and led to me hiring a local professional sewer!
I'm proud to offer quality charmeuse fabrics and other poly blend fabrics that are not only stylish but hearty! Those will always be a
staple around here, but I still get asked ALL the time if i carry 100% silk. I have here and there but it's been very difficult to find ones i like in western styles, and that's quite the investment for something that just wasn't quite what i wanted. In case you weren't sure real silk is pricy!
Last winter i met another wild rag maker and she carried a full line of beautiful silks and shared with me her printing source. (*side note* DON'T ever see someone else in the business as your competitor. Learn from one another. This is a BIG BIG world and everyone runs their business uniquely.) This led me to working with a digital designer to develop my very first line of 100% silk wild rags that are exclusively my own designs! For this launch i went with a fun take on paisleys from my logo and saddle blanket prints! Of course i threw in a punchy cactus for my cactus lovers! I played around with colors quite a bit to get ones that i knew men would like as well since many men will ONLY wear 100% silk. They like how close it ties to their necks mostly.
I'll have even more styles out around Christmas with artwork from small artists and all the ideas I've been brainstorming since these went to print…the list is long!
To sum this up! If you're looking for a variety and quality with a guarantee from a small business I'm here for you! Each order gives me the biggest smile and is personal to me
- Steph
---